people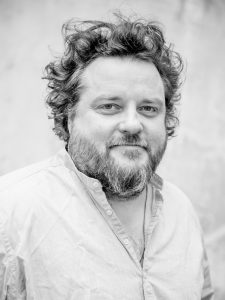 Andrej Kalinka
He began in 1993 as a musician in underground and jazz bands. Gradually, he went on to study classical music (conducting and composition). Since 1996 he has begun to collaborate with various theater and musical companies/groups, first as a composer, later as a librettist and finally as a director. He had an opportunity to go through a wide range of theater, music and dance genres – drama, puppet theater, contemporary dance, folk dance (theater) music, opera, cooperation with galleries, musical bodies, art schools as a pedagogue etc. He has collaborated with more than 30 companies and has contributed to more than 70 works.
Since 2006, he has begun to search and create his own artistic language, and in 2011 together with Ivan Martinka, Juraj Poliak a Michal Mikuláš founded artistic group HONEY AND DUST. As a librettist, composer, artist, performer, and director, he is currently working on pieces for which he is constantly looking for new performers from different countries. He considers their specific experience, aspects of their personalities and cultural contexts, their acting, musical or motion techniques as an essential part of his artistic language, which can be described as complementary art. Complementary art is an artistic language and a new working method that Andrej has developed together with Milan Kozánek.
His work has been presented in various countries – Thailand, Russia, Poland, Croatia, Hungary, Germany, etc., where he has won several awards (New Drama Festival, DOSKY – the main Slovak theater prize, PIF festival, HARMONY WORLD PUPPET CARNIVAL and other).
---
Milan Kozánek
Milan graduated from the Department of Dance at the Academy of Performing Arts in Bratislava (SK). Since the graduation he has worked as a dance teacher, choreographer and expert advisor. He has developed his own particular pedagogical aproach and system throughout more that 20 years of regular teaching and researching in institutions such as Salzburg Experimental Academy of Dance (SEAD), Tanz Quartier Wien, Konservatorium Wien University (A), Northern School of Contemporary Dance in Leeds (UK), TIP – School for Dance, Improvisation and Performance in Freiburg (D), University of Calgary (Canada).
In 1996, he and Zuna Vesan Kozánková founded the Artyci Dance Company. They have created 16 dance works that were presented in Slovakia, as well in abroad (Germany, Austria, Poland, Czech Republic, Hungary, Canada, Thailand, China, Taiwan etc.).
Since 2010 he has been developing intensive artistic cooperation with creators and theater actors who are looking for a connection between physical theater, movement, text, voice and singing. Milan has been a part of many theater research projects with theater artists from artistic groups such as Studio Matejka (PL), Song of the Goat Theatre (PL), Res Ratio Network (GR), Honey and Dust (SK). He has been working intensively with Andrej Kalinka since 2017 and together they have created these works: King /2017/ for Bratislava Puppet Theater, EU.GENUS /2018/, Uninteresting Scream /2019/, outside the box 01 /2020/ for Honey and Dust, Temperaments /2019/ and Monologues and dialogues /2022/ for Ján Palárik Theater in Trnava. His main topic and fascination with his artistic as well as pedagogical work is a human. He implements his relationship with eastern philosophies. In addition to working with professional dancers and actors, Milan has is teaching regulary as well people without dance experience.
---
Juraj Poliak
A graduate from the Academy of Fine Artsand Design in 1997, Mr Poliak also spent time at École des Beaus-Arts Saint Étienne in France and the French Institute in Thessaloniki, Greece. In addition to visual art and exhibition projects, he is stage designer. Together with Ivan Martinka and Andrej Kalinka, he created such productions as Epos (Puppet Theatre Žilina), Home Eros Faith, Beauty and Filth (Honey and Dust company). His works have been presented at a number of individual and group exhibitions in Slovak and international galleries.
Mr Poliak is laureate of a range of prestigious awards, including the Grand Prix of the Ministry of National Cultural Heritage, the Prize and Honorary Mention of the Jury at International Biennial of Drawing and Graphic Art, Györ, Hungary (2001 and 2007). He won the Annual Prize of the Sights and Museums magazine and the Museum of the Year 2007 Award for the exhibition Collectors' Journeys for the Museum of Coins and Medals in Kremnica, Slovakia. He received the 2015 DOSKY Award in stage design category for the production Mojmír II, or the Fall of the Empire.
---
Ivan Martinka
---
Michal Mikuláš