Alexandra Kazazou
"SAPFO"
I met the poetry of Sappho from my grandfather Sotiris. He used to read her poetry in Ancient greek as of course she was writing them in her island Lesbos long long long time ago…
He never read it to me in new greek and i was always imagining what these poems are about… Now i know… but that doesn't make me more happy… Back then the melody of the ancient language traveled me to very unknown and deep places of my imagination. And now i share 3 of them that do not have a title and are not translated in english so that probably one can't understand neither the ancient nor the new greek language. That means for me. Enjoy the journey!
Sappho (SAPFO)
was an Archaic Greek poet from the island of Lesbos. Sappho is known for her lyric poetry, written to be sung while accompanied by a lyre.In ancient times, Sappho was widely regarded as one of the greatest lyric poets and was given names such as the "Tenth Muse" and "The Poetess".
Sappho was a prolific poet, probably composing around 10,000 lines. Her poetry was well-known and greatly admired through much of antiquity, and she was among the canon of Nine Lyric Poets most highly esteemed by scholars of Hellenistic Alexandria. Sappho's poetry is still considered extraordinary and her works continue to influence other writers. Beyond her poetry, she is well known as a symbol of love and desire between women, with the English words sapphic and lesbian being derived from her own name and the name of her home island respectively. Whilst her importance as a poet is confirmed from the earliest times, all interpretations of her work have been coloured and influenced by discussions of her sexuality.
Alexandra Kazazou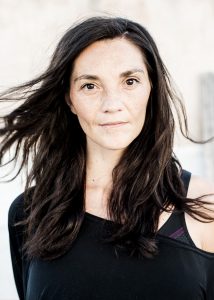 Greek – polish actress/performer, Alexandra Kazazou, was born in Wroclaw, Poland. She studied in the Department of Theater Studies (Aristotelian University of Thessaloniki) and continued her postgraduate studies (MA in Acting) at Manchester Metropolitan University. Since 2010, she is a close collaborator of Grotowski Institute, in Poland. In Greece, she works as an actress, choreographer and theatre pedagogue. In recent years she is a member of the Teaching Staff at "Delos" Drama School, as well as at the Drama School of "State Theatre of Northern Greece". In Greece, she has worked with acknowledged directors such as: Mikhail Marmarinos, Yannis Mantafounis, Io Voulgaraki, Yannis Leontaris, Petros Sevastikoglu, Phillipos Tsalachouris, etc.
In 2017 Alexandra was a nominee for ELEFTHERIA SAPOUTZI THEATRE AWARD and in 2018 a nominee for MELINA MERCOURI THEATRE AWARD. She is a founding member and the director of TEATR ANDRA THEATRE GROUP, which is based in Istanbul and consists of Greek, Polish and Turkish artists.
She has led and coordinated numerous workshops at Grotowski Institute, as a member of STUDIO MATEJKA, PHYSICAL THEATER GROUP (2010-2015). She has taught as professor in residency at the University of St. Lawrence, in New York (2014), as well as at Gonzaga University in Washington State (2015). She has coordinated masterclasses at Calarts University in Los Angeles, California (2018). Since 2015 she teaches at the Summer Academy of Performing Arts "Tiyatro Medresesi", at Sirince, Turkey. She is a founding member of the recently established artistic company TRANSATLANTIC GROUP, based in Athens, Greece, which is focused on theatrical research and the exploration of new artistic tools.
www.teatrandra.com
www.dilos.gr/staff/alexandra-kazazou/
www.facebook.com/alexandra.kazazou