Alexandra Kazazou
"ΠΕΡΙ ΛΥΧΝΩΝ ΑΦΑΣ (The beginning of the night OR As the night falls)"
Notes on the movie Medea by Dimitris Athanitis
In this article, I share little pieces of the puzzle under the title "In search of Medea: a journey". This puzzle has started some years ago, but the movie Medea by Dimitris Athanitis, where I bare the challenge to play this seminal role, made this journey deeper and full of magic. We are still shooting this movie, so I am happy that I am writing at this moment: the temperature is right, protecting me from the perils of literary and explanatory routes. So, the idea of this article is the following: four members of the creative team -director Dimitris Athanitis, art director Stella Kaltsou, Document Photographer Karol Jarek and myself- provide us with answers to two set questions. This way I feel that the different point of views will express a choral voice, which I find much more interesting. Cause one mind alone cannot apprehend the scale of Medea.
DIMITRIS ATHANITIS, director
1. Which is the biggest challenge you face while directing Medea?
To direct a movie in our times based on one of the greatest works of ancient Greek drama, a landmark-work in the history of human mind, that is undoubtedly a great challenge.
To keep the time reference of the original work, that is 2.500 years ago, is another challenge. And it is no wonder that nothing like that has been ventured in the world cinema the last 6o years.
Our encounter with the character of Medea, a thrill of a character, is the biggest challenge of all.
Medea is an unthinkable character, a woman who dares to question everything, starting from her female nature -cancelled by her killing her children- to the expression of Power. Without any kind of support, already lost, she does not succumb to male power. On the contrary, she dares to question, fight and destroy Power, based on her own weapons. A unique woman goes at the other end of the spectrum to defend her rights, her dignity.
To attempt to make a movie on such a person, on such a woman is the greatest challenge for me.
2. Could you recount in the present tense a moment while shooting the movie, a moment that you will never forget or a deeply moving moment?
After months of rehearsals and preparation, we have begun to shoot the movie. Despite considerable difficulties and contigencies, things develop according to plan. The editing of the movie is all in my head as I experience little nice surprises every day while shooting. Nice surprises become a routine.
And now, on the 6th day of shooting, while I notice the actors, the monitor hanging on my chest, and the director of photography in a constant move of the camera, I realize I cannot see well. I cannot see well because my eyes are full of tears. As are Medeas' eyes. Alexandra (who plays Medea) has dragged me into the emotional world of Medea. I know every word she is going to say, we have built this world together after all, step-by-step, I know that those tears are a Trojan horse. Their deep strength have made of me another Jason.
Dimitris Athanitis 12/1/2021
ALEXANDRA KAZAZOU, actress
1.
Being open to what is happening every minute during the shooting -and not focused to what I have thought or dreamed about the role, this has been for me the biggest challenge in this project. I try to notice every day which of my senses is more acute, to trust in it, to let it guide me every day. During shooting I function as a calm beast, I feel as a big cat but at the same time as a shadow that I cannot analyze or explain. I trust this shadow. I have accepted that I cannot play Medea but the biggest challenge is to trust this shadow as I trust Dimitris and my colleagues and try to silently step on the shadow's footprints. During the journey of the movie there is a phrase I feel very much close to: "this that cannot be shown, this that is".
2.
It is dark, this suspended vacant hour which resembles dawn but is actually just before the night falls. We are all silent, waiting for the right light to shoot. Everything must be done really quickly. It is the scene after Medea's murders. Medea has just committed the crime. Athanitis wants to capture a silent still frame. One minute long. This moment is a surprise and a happy surprise. I feel a weird sense of a whole, but at the same time a crack I cannot explain or deny. There is -I dare say- a perfect meeting of the psychophysical condition of Medea with this particular moment, that is the time just before ground zero, just before the awakening. Unfathomable deepness for some seconds, yet sufficient to remember that Medea will never be understood by any human. She is one of the cosmic elements. I accept her connection with Primitive Helios, I accept Magic and I let loose to the shot.
KAROL JAREK, photographer
1.
For me every new documentary project is challenging. I try not to work with patterns or ways that I discovered in the past, rather to see first, feel the atmosphere to document also my own feelings, not only the subject. Having said that, I have to state that this is the first time I work professionally as a photographer in a movie. In this work the most challenging part is that you have to shoot when you can, not when you want. Therefore, within this framework you try to work out everything else.
2.
We are in an important location in Parnitha mountain. It is a very windy morning with clouds running low and fast. We are going to check the light and conditions in the ruins of the ancient watchtower that was protecting Athens. We are climbing up the hill, and then through the hole in the walls we are entering the innerspace. We see an open field in the age of rock, with one magic tree in the middle. Such a impressive view! I am taking my first photos of the day. I feel like I am inside the scenography of the masterpiece "Rękopis znaleziony w Saragossie", a Polish movie by Jerzy Has. I know it will be a beautiful day.
STELLA KALTSOU, art director
1.
A period film is always a big challenge for an art director, especially when you have to confront a milestone such as Medea. To find -together with Dimitris Athanitis- the central idea regarding the space and time of the film, its aesthetics, so that we design the costumes and choose the actual spaces which will compose the geographical scenery of the movie: this was definitely the most critical challenge I have faced as art director of the film. This procedure requires much time and work before we begin to shoot. From then on, a new journey starts with another kind of anxiety.
Every day during shootings, I take care of the actors, the space, I monitor our work so that the result is what we have imagined. Every shooting presents difficulties, demanding constant presence and keen observation.
2.
Shooting a film is a unique experience containing multiple feelings, surprises, contingencies. I remember funny moments, tiring moments, moments of anxiety, I have though one memory that I will never forget. It is dawn. We are in a forest, it's cold and dark and we are getting ready for our first shooting. There is joy, tension, anxiety. We are ready, I hear the voice of the director: "let's start". My eyes are stuck on the monitor, and I get deeply emotional as I realize that what we planned in our heads and in our imagination comes finally to life. This picture evolves, rewarding me artistically and emotionally. I am fulfilled via the act of creation. This is seminal for me and this is why I consider this is my most important moment while creating this film.
Photo by Karol Jarek
Alexandra Kazazou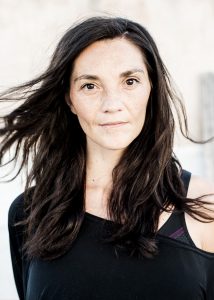 Greek – polish actress/performer, Alexandra Kazazou, was born in Wroclaw, Poland. She studied in the Department of Theater Studies (Aristotelian University of Thessaloniki) and continued her postgraduate studies (MA in Acting) at Manchester Metropolitan University. Since 2010, she is a close collaborator of Grotowski Institute, in Poland. In Greece, she works as an actress, choreographer and theatre pedagogue. In recent years she is a member of the Teaching Staff at "Delos" Drama School, as well as at the Drama School of "State Theatre of Northern Greece". In Greece, she has worked with acknowledged directors such as: Mikhail Marmarinos, Yannis Mantafounis, Io Voulgaraki, Yannis Leontaris, Petros Sevastikoglu, Phillipos Tsalachouris, etc.
In 2017 Alexandra was a nominee for ELEFTHERIA SAPOUTZI THEATRE AWARD and in 2018 a nominee for MELINA MERCOURI THEATRE AWARD. She is a founding member and the director of TEATR ANDRA THEATRE GROUP, which is based in Istanbul and consists of Greek, Polish and Turkish artists.
She has led and coordinated numerous workshops at Grotowski Institute, as a member of STUDIO MATEJKA, PHYSICAL THEATER GROUP (2010-2015). She has taught as professor in residency at the University of St. Lawrence, in New York (2014), as well as at Gonzaga University in Washington State (2015). She has coordinated masterclasses at Calarts University in Los Angeles, California (2018). Since 2015 she teaches at the Summer Academy of Performing Arts "Tiyatro Medresesi", at Sirince, Turkey. She is a founding member of the recently established artistic company TRANSATLANTIC GROUP, based in Athens, Greece, which is focused on theatrical research and the exploration of new artistic tools.
www.teatrandra.com
www.dilos.gr/staff/alexandra-kazazou/
www.facebook.com/alexandra.kazazou