Anna Luňáková
"Record of the day"
I share with you a text of my personal diary from the process of creating the production. All the audio recordings that you will find in the unified audio track below are the background to this text.
Adjustment and sound design: Jakub Štourač
*I recommend reading the text below directly into the recording, at a free pace, as when walking…

From the diary (autumn season)
That day I decided to walk from the station to the theatre.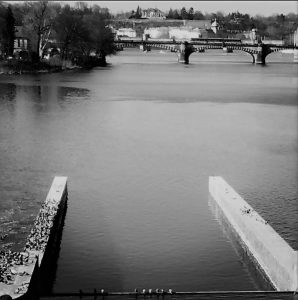 I first took a detour to the waterfront, because I had some time left for myself – then along the river and back around the Jewish cemetery.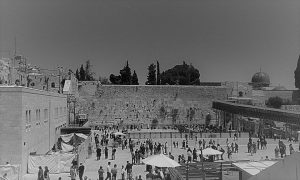 Back inside. Inside the city. The narrow streets of Prague held together and supported me on the way. In it the bells began to ring at noon… It was real noon. I felt like the sound filled me like a glass. A strange, ubiquitous, shaky rhythm.
I was nervous. A theatrical rehearsal was waiting for me. The rehearsal I was supposed to undergo as a director. Expose myself to a situation of ignorance. I should have stood before all those people and knew our next step. Know where I am leading them and why I am leading them there. I was to become a lightning rod to lean on when needed. I was supposed to be a magician who would open in them what they didn't know they had.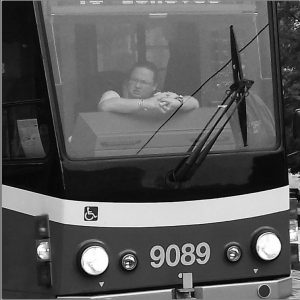 I'm not saying I've been particularly successful in this role, but I remember every moment of rehearsal. Clearly. Physically. Specifically. It was as if the voices of my actors resonated in my head long after the rehearsal was over. It was like seeing them all dance in front of my eyes.
That day I walked from the theatre to the station.
Tired, exhausted. The clock struck some night time. Voices rolled in my head. I went through each of our songs… Author's song…
Today my actors sang beautifully.
But I was still looking for the right tone.
I was looking for a way to say goodbye to a deceased with an ordinary melody.
The unknown of this melody hit me for the rest of the night.
It was raining. There was even a storm.
I have to figure out how to say goodbye to the deceased with an ordinary melody.
It is my job.
In the morning, I no longer knew if I was my own actress, or the rain, or a tear, or the path that others walk.
I didn't know anything.
But I know that the melody finally came to me.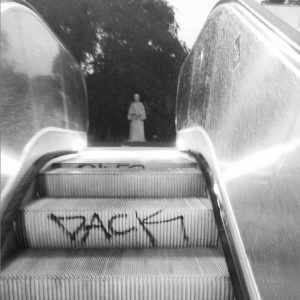 And I knew where to start the next day.
And I knew the next step.
And it was a familiar centimeter of knowledge.
It's like I've known the tune since I was little.
As if I could sing the song backwards.
I got up at dawn, which made me laugh.
I welcomed my nervousness as a friend.
…I originally wanted to share the original audio recordings, recorded on the mobile dictaphone on the day of the events which I've just described. But I realized that I could not only provide an authentic record, but that it must be re-formulated, re-articulated, modified to – very paradoxically – approach the original.
I have been recording events for years. This is not a simple data collection. It is an effort to find the relationship between form and content, between the event and its perception. I want to share a "diary", not an objective documentary, so I have to "tell" the original recording again in my own way, as I perceived it, as it emerges in my memory, as it transforms. The paradox is that by sharing the "original," the faithful reproduction, I cannot achieve what is a reflection of those events for me. I do not share objectivity, I share my perception of objectivity. It is therefore also a paradox of authenticity. It may be trivial, but it never ceases to amaze me.
Only the "mix", the music studio of your head, soul and body, has unmistakable "effects", your personal sound design. Even extreme stylization can turn into inner authenticity.
I wonder what a map of the city we live in would look like if we drew it as we know it at the moment? It would be wonderfully deformed. In some places it would be very detailed. In some places there would be empty, uncertain stains. However, this does not mean that it is inaccurate. It would be accurate where it really is – accurate for ourselves. It would follow in the footsteps of memory. Memory, which necessarily includes projections, imagination and a new content.
Anna Luňáková  (*1993)

Studied philosophy at the Faculty of Arts at Charles University in Prague, and currently is a PhD. student engaged in romance literature. So far, she has published two books, the novel Three (2020) and the collection of poems I just lose my name (2020). She also translates from French (Letter to D., 2021) and Portuguese. She creates authorial performances, i.e. Bohemia, performed in 2018 in Paris, Elevation 2018 in Casablanca, Přeslice 2019 in Setúbal or Odposlech 2020 in Malovice. The last mentioned, Odposlech, was created under the newly emerging collective HERONS VECTOR, of which she is a co-founder, together with Jakub Štourač and Ondřej Macl. She is also the co-founder of the open platform Nothing is a problem here, which organizes authorial readings, events and cabaret.