Alexandra Kazazou
"Mourning: on a personal note"
In June 2020, after the first strong wave of COVID 19 we decided with the director Io Voulgaraki and the actor Dimitris Georgiadis to make a small performance about the luck of mourning in the modern times. As a text for our performance we used one poem of our national poet Dionysios Solomos, and some interviews from unknown to us everyday people and we were asking them the question: "Have you ever mourned for somebody or something in your life?"
The title of the performance was The cemetery, the same as the title of the poem.
Below are some of the answers of the people that I decided to share, together with some of my personal notes on Mourning.
Do you write? Do write. Write. Sotiris mourns for Maria. Sotiris with a capital "S".

I mourn for the youth I have not lived. I had to work at a gas station. I couldn't share with my friends the taste of the first kiss, I do not even remember it.

A constant distress overwhelms me, like a funk taking my breath away.

I

remember

when

a

close

friend

died

at

school

,

in

Kastoria

,

I

walked all around the lake so many times out of despair. I

will

never

forget

that

walk

.

Once a week, I go to the place I used to rent for my mum. I look at the balcony and imagine her coming out.

Not a single day goes by that I do not mourn for my mum.

For every beautiful lady that does not respond to my 'goodmorning' greeting, I cry my eyes out.

Did I take the biscuit, you reckon?

Every

day

I

visit

his

grave

,

I

tidy

up

the

murbles and when I am all done, I light a cigarette,

Marlboro Lights,

his favourite

.
I can't cry. The last three years, I can't cry. I want to

.

I want to, cause to cry is to be relieved. I

have

lost

a

friend

.

I watched him descending in the grave and I could not cry.

I now mourn. NOW. I am in this state of "acceptance-grief", "acceptance-grief", "acceptance-grief", "acceptance-grief", "acceptance-grief". How long will this last? According to Freud, three weeks. I am past five. What do I do wrong?

I have buried my daughter, Eftichia

1

. Is there anything else?

I mourn for my country. Cause I am not coming back. Georgia is my country.

I've spent all my life thinking that it is no use sharing your pain, that pain is something you should not share. This is why tomorrow I start sessions with my shrink.

I mourn for my mother. Eight years. Every day I talk to her photograph. And it talks to me too. My mother is a Saint. It's true, cross my fingers.

I mourn for my youth. I

miss

my

youth

.

I can't stand going to a bar and having a super barwoman address me saying "Hello Sir" instead of "Helloooo". But

,

this

is

the

circle

of

life

.

My father, I mourned for him alone. Without showing it. I have told my sisters: "Cry as much as you want to now, but when we go to the church you have to be proud". I went there myself, at the last minute, but didn't cry.

At

the

funeral

of

my

father

I

received

condolences, I said "thank you" and smiled. A grannie says "A fool you were, a fool you will remain. But

I

know

why

you

are

smiling

".

My uncle died with his wife and son. They had brought us up. Is there a biggest cry? I mourned for them into the bowels of the earth. However, I do not believe that we should get stuck in Big Friday. We should go on. To Resurrection.

I mourn for the two baby-infants, planted, though not rooted into my womb.
1
Eftichia means Happiness in Greek
Mourning: some personal references
As a child in Wroclaw, Poland, I remember my grandfather Sotiris (who raised me up until I was 10) telling me: "We will go to our beloved Greece, we will finally return home". Born in Wroclaw, half-polish on my mother's side, I remember the first smell of Mourning: the act of separation from my room and my hamster, my friends, the ice-cream shop, the municipal playground. Our red little Fiat began its journey back 'Home' on June 7th, 1987. I was only five years old and I cannot forget the endless sorrow and silence I kept for all of the five days the trip lasted from Wroclaw to Larisa.
My grandparents were in deep mourning too. Much deeper than I was. They were mourning since 1949 when they crossed the Albanian border as political refugees to arrive in Poland. They were given a roof over their heads, a job, respect, culture, hence they spoke highly about the benefits of socialism. However, they always said: "They can give us everything except sea, sun, our language, our songs".
Many years after, I realized that it was not the word 'Nostalgia' that expressed their feelings, but a much more dynamic condition, containing waiting and sorrow. My father inherited the collective and day-to-day Mourning for more than 38 years and he knew that he had to leave everything behind and "return'' (but this is the beginning of another story)
The story of my rebel grandmother, Anna, is a story where the word Mourning goes hand in hand with the words "Struggle" and "Fighting". During the course of her life she has lost three children and two husbands. When I have asked her: "how do you cope?", she answered "I would gladly kill myself, oh, how I would gladly kill myself, but I cannot do it because I am a Communist".
On November 1st, it is All Saints' Day in Poland, a celebration of the dead. On Novermber 2nd -this is more of a pagan tradition- it is thought that during the night the souls of the dead visit their homes and speak with the living. Day and night, the cemeteries overflow with people, the nice smell of all kinds of flowers and songs to honour all dead setting the tone. For me, for my soul and all souls this is one of the most liberating days. You walk amidst the graves of strangers and beloved ones, you talk to them, you address them, you place flowers on their graves, you sing, you hug someone who cries, you stay silent with someone else. For a brief moment, the distance between us is a little smaller. What I am trying to say is that for just a while you do not bypass the pain of the others, you do not bypass your own pain, you just make room for it, you embrace it, you take part in something without trying to avoid it, you meet with something that seems unreal, yet it is a reality more 'real' than most others.
In June 2011, we traveled with Jubilo group in Srebrenica. There, we walked for three days in absolut silence when we found ourselves in a huge area amidst thousands of graves. I cannot describe what I saw. In 1995, more than 8000 boys and men were killed at the Srebrenica massacre. Parts of the bodies are still being found in the area. Their women, their mothers still wait to gather parts of the dead bodies, so that they can bury them, honour them as they deserve. Until this happens, they cannot mourn.
Adolf Hitler once said something like this: "After 100 years, who will remember the Armenian genocide?". And then Auschwitz happened. It is written in a sign: "People who do not remember History are obliged to relive it", to walk through it, to study it, to listen to it, to silence it, to remember personally and collectively, to mourn collectively. Srebrenica also happened. In times like these, Death is …dead. There is no room for mourning, cause the world looks like a "corpses production factory".
I believe that Io's and Dimitris's and my inner need (or our inner question) is the following: after experiencing the shock of thousands of people-numbers dying in no time and being buried without rituals, without room for Mourning and Good-bye in "exception circumstances"- can I possibly feel the Other, his/her pain, his/her history, his/her personal Mourning, can I make more room for the dead, to remember their name so that I connect with a real piece of my history? Isn't it all about collective memory after all? That kind of memory that can move mountains and really bring a new Resurrection?
Photo by Karol Jarek
Translated by Sophia Eftychiadou
Alexandra Kazazou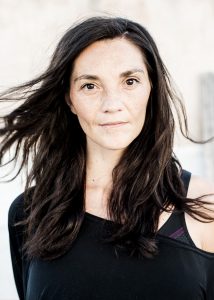 Greek – polish actress/performer, Alexandra Kazazou, was born in Wroclaw, Poland. She studied in the Department of Theater Studies (Aristotelian University of Thessaloniki) and continued her postgraduate studies (MA in Acting) at Manchester Metropolitan University. Since 2010, she is a close collaborator of Grotowski Institute, in Poland. In Greece, she works as an actress, choreographer and theatre pedagogue. In recent years she is a member of the Teaching Staff at "Delos" Drama School, as well as at the Drama School of "State Theatre of Northern Greece". In Greece, she has worked with acknowledged directors such as: Mikhail Marmarinos, Yannis Mantafounis, Io Voulgaraki, Yannis Leontaris, Petros Sevastikoglu, Phillipos Tsalachouris, etc.
In 2017 Alexandra was a nominee for ELEFTHERIA SAPOUTZI THEATRE AWARD and in 2018 a nominee for MELINA MERCOURI THEATRE AWARD. She is a founding member and the director of TEATR ANDRA THEATRE GROUP, which is based in Istanbul and consists of Greek, Polish and Turkish artists.
She has led and coordinated numerous workshops at Grotowski Institute, as a member of STUDIO MATEJKA, PHYSICAL THEATER GROUP (2010-2015). She has taught as professor in residency at the University of St. Lawrence, in New York (2014), as well as at Gonzaga University in Washington State (2015). She has coordinated masterclasses at Calarts University in Los Angeles, California (2018). Since 2015 she teaches at the Summer Academy of Performing Arts "Tiyatro Medresesi", at Sirince, Turkey. She is a founding member of the recently established artistic company TRANSATLANTIC GROUP, based in Athens, Greece, which is focused on theatrical research and the exploration of new artistic tools.
www.teatrandra.com
www.dilos.gr/staff/alexandra-kazazou/
www.facebook.com/alexandra.kazazou