Alexandra Kazazou
"Notes upon 'Space' (first thoughts towards a performance where SPACE is the protagonist) & a video titled 'Rhythmic Imagination' with subtitle 'towards organic repetition'."
Note number 1.
The spiritual life of the work of art, has its energy moving forwards and upwards.
Note number 2.
"The space inside us opens", literally means: "the space opens around us". Isn't this space the beginning of our imagination??
or
The space opens outside of us
Note number 3.
When I start to observe the different rhythms of the different others, I can accept a part of their difference and embrace it. By the word "others" I mean the ones upon whom my gaze stumbles.
Note number 4.
The space of Platonic Memory …Have I pre-existed in this space? Why do I sometimes feel that I possess a special wisdom upon spaces/places of history? As if I have walked there before. As if I have walked history's topography…But is there anything geographic that resides exclusively in its own geography;
Note number 5.
When I become part of the space, I feel truly free and then, the 2 sqm of my bathroom transcend to the Pacific Ocean. The Space right here – to be exact – is transformed into temperature.
Note number 6.
Music finds you wherever you are or: music travels you to a specific space. In the space where memory lies.
or
In the space of memory.
Note number 7.
I do not know why, but I am so astonished by this photo of Will McBride:
https://www.artnet.com/auctions/artists/will-mcbride/will-and-danny-overpopulation-series
There is such a punctum* for me in the girls left hand…
Note number 8.
Also, this one of Duane Michals:
https://www.jmcohen.com/artist/Duane_Michals/works/226/#!226
The punctum of the photo lies in the shadowy part between the man's eyes and eyebrows. His gaze attracts me so much that the change of space leaves me rather indifferent. His eyes take me somewhere further, in an unknown and at the same time familiar cave..of a forgotten childhood ..
Note number 9.
Nyssos, my son, opens new spaces of reception within me. He exists and concentrates with all his Being in action. Or to put it more precisely: the totality through which he gives himself completely to the "temperatures" of the space and towards which he responds with the same completeness.
Note number 10.
The following video… A musical composition where the protagonists are: the hands, the touch, the question that rases the next question and the great desire that deepens and deepens and beautifies the space…
* Punctum comes to break the studium. A photo's punctum according to Roland Barthes (Camera Lucida): is the accidental that, by itself, penetrates me but also hurts me … It is the random detail of the photo, upon which my gaze drops without logic and without studium (where studıum is the general interest about something).
Alexandra Kazazou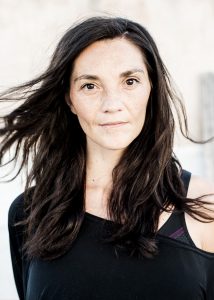 Greek – polish actress/performer, Alexandra Kazazou, was born in Wroclaw, Poland. She studied in the Department of Theater Studies (Aristotelian University of Thessaloniki) and continued her postgraduate studies (MA in Acting) at Manchester Metropolitan University. Since 2010, she is a close collaborator of Grotowski Institute, in Poland. In Greece, she works as an actress, choreographer and theatre pedagogue. In recent years she is a member of the Teaching Staff at "Delos" Drama School, as well as at the Drama School of "State Theatre of Northern Greece". In Greece, she has worked with acknowledged directors such as: Mikhail Marmarinos, Yannis Mantafounis, Io Voulgaraki, Yannis Leontaris, Petros Sevastikoglu, Phillipos Tsalachouris, etc.
In 2017 Alexandra was a nominee for ELEFTHERIA SAPOUTZI THEATRE AWARD and in 2018 a nominee for MELINA MERCOURI THEATRE AWARD. She is a founding member and the director of TEATR ANDRA THEATRE GROUP, which is based in Istanbul and consists of Greek, Polish and Turkish artists.
She has led and coordinated numerous workshops at Grotowski Institute, as a member of STUDIO MATEJKA, PHYSICAL THEATER GROUP (2010-2015). She has taught as professor in residency at the University of St. Lawrence, in New York (2014), as well as at Gonzaga University in Washington State (2015). She has coordinated masterclasses at Calarts University in Los Angeles, California (2018). Since 2015 she teaches at the Summer Academy of Performing Arts "Tiyatro Medresesi", at Sirince, Turkey. She is a founding member of the recently established artistic company TRANSATLANTIC GROUP, based in Athens, Greece, which is focused on theatrical research and the exploration of new artistic tools.
www.teatrandra.com
www.dilos.gr/staff/alexandra-kazazou/
www.facebook.com/alexandra.kazazou